The merit program
In an effort to move the university toward becoming a more performance-based organization, President Napolitano announced in late 2015 that all campuses and locations will be required to return to a merit-based pay for performance model for non-represented staff employees beginning in FY 2016-17.
In a pay for performance model, the goal is to improve employee and organizational performance by rewarding individual employee effort and contributions. Employees who meet the expectations of their jobs or perform above expectations, according to measurable criteria, receive an adjustment in salary based on that performance. The amount of the adjustment varies with some measure of an individual's performance. Employees no longer receive automatic across-the-board salary adjustments.
The pay for performance program aligns individual employee objectives, milestones and targets with the university's goals. Together, we will advance UCI into our brilliant future.
WHAT ARE THE BENEFITS OF A PERFORMANCE
BASED MERIT PROGRAM?
Ability to attract and retain top performers
Encourages excellence in employee performance
Supports employee recognition, development and advancement and leads to employee engagement
Leads to improved organizational performance
WHEN DOES THE PROGRAM GO INTO EFFECT?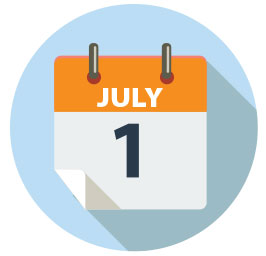 WHO'S ELIGIBLE?
Only employees who meet the following requirements will be eligible for a FY2016/17 merit increase:
Hold a non-represented career or partial year career appointment as of July 1, 2016
Completed their probationary period by July 1, 2016
Be on active status (or on approved leave) on July 1, 2016
Have a merit level of "On Target Performer" or above
Contract employee whose contract allows for a merit increase
HOW DOES THE PROGRAM WORK?
This year, due to the timing of performance evaluations at the campus and medical center, the distribution of merit awards will occur before most employee performance reviews are completed. As a result, "mapping" is required.
Your manager or supervisor will reference your last performance rating and use your performance since to determine your anticipated performance rating and then map that anticipated rating to one of the three merit levels: above target performer, on target performer or below target performer.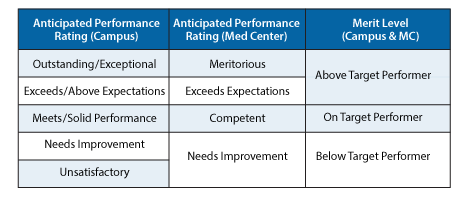 WHAT KIND OF INCREASE CAN I EXPECT?
Once your manager or supervisor determines your merit level, a merit increase will be determined using the chart below. The amount of the merit award will vary according to your performance contributions and the available budget. The merit program is dependent on available funding. Our program is supported by a limited budget provided by the campus/medical center and individual schools and departments. Every organization will be operating with the same percent merit budget allocation. The fixed budget means that the actual merit increases will also be limited. The total of all employee increases within a department cannot exceed that organization's allocated budget.

HOW WAS THE MERIT MODEL DEVELOPED?
In September 2015, UCI Human Resources (HR) assembled a Performance Management Advisory Group to provide input on the design of a merit-based pay for performance compensation program that aligns with President Napolitano's directive. The Advisory Group is made up of nineteen (19) "people leaders" who are responsible for coaching, evaluating and developing employees across the entire UCI enterprise including both the campus and medical center. The Advisory Group will serve a two-part purpose. First, it will provide input on the development of the merit increase distribution model effective July 1, 2016, and then it will provide input on a new performance management program effective July 1, 2017. The HR Steering Committee met with the Advisory Group four times between December 9, 2015 and January 26, 2016 to develop the proposed merit distribution model.