WHY MOVE MORE?
Reduce feelings of depression, anxiety, and stress
Help build and maintain healthy bones, muscles, and joints
Feel stronger, move easier, and have more energy
Increase your ability to achieve and maintain a healthy weight
Improve your blood pressure and cholesterol
Reduce your risk of developing coronary heart disease and type 2 diabetes

UC MOVES CHALLENGE
Represent UCI/UCI Health in the 2022 UC systemwide movement and activity challenge. The goal of the challenge is to move 5,000 steps/day during this interactive app-based challenge. View the 2022 Challenge flyer here.
Visit UCMoves.walkertracker.com then select 'Register Now' to create a new Walker Tracker account. Select a username and password using an email account not currently registered with any other Walker Tracker challenge. Choose 'UCI/Health' as your location and then select a UCI/UCI Health team to join or create your own. If you have participated in a different Walker Tracker program please create a new account. If your account is in use elsewhere please sign up with an alternate email address. Click here for a step-by-step guide to register for UC Moves.
Registration will stay open until all UCI/UCI Health spots are filled. Once registered, download the Walker tracker application on your smartphone (iOS / Android) and sync your smartphone or preferred smart device with the Walker tracker application.
UCI MOVES MORE MONDAY MESSAGES
Your Monday morning motivation to get moving this May. UCI HR Wellness Listserv members, check your inbox each Monday during the month May for a UCI Move More Message. Not a UCI HR Wellness Listserv member? Join Now. Click below to read archived messages.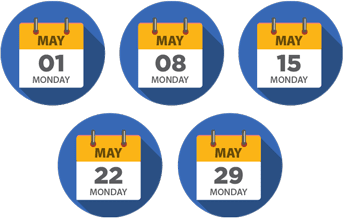 LIVE UCI
FITNESS
Fit Squad – Onsite and virtual fitness classes at multiple UCI and UCI Health locations. Free to all employees for Spring and Summer 2022. Registration required. Check out additional, noon Friday classes at the ARC, newly added to the May schedule.
Friday, May 6: H20 Flow
Friday, May 13: Spin & Stretch
Friday, May 20: Yoga on the Pool Deck
Campus Recreation Group Fitness Classes – Onsite fitness classes at the Anteater Recreation Center. ARC membership and Fitness Pass required.
Campus Recreation Personal & Buddy Training – Onsite customized personal or small group training with a certified trainer. ARC membership and additional fees apply.
SSIHI Well-being Services – Virtual wellbeing services provided by appointment from The Susan Samueli Integrative Health Institute including Mindfulness & Meditation, Yoga and Yoga for Wellbeing. Free for all employees and any UC Care member.
Onsite exploration of the UCI Campus. All are welcome. Meet the Center for Student Wellness & Health Promotion and Campus Recreation staff outside of Zot N' Go at 11:30 a.m. for a walk that will incorporate mindfulness, meditation, and ecological education.
Wednesday, May 4: UCI Arboretum & Marsh
Wednesday, May 18: San Joaquin Wildlife Sanctuary
FITNESS
WEBINARS
Learn more about how and why you should incorporate physical activity into your daily routine. Webinars will be presented by your UCI Employee Assistance Program, ComPsych GuidanceResources. Save the date, registration will be available May 6. Can't attend live? The registration links become recording links following each session.
Get Moving, An Introduction to Exercise
Friday, May 20, 2022, 12:00 – 1:00 pm
Register
Healthy Lifestyles: Changing the Way You Think About Diet and Exercise
Monday, May 23, 2022, 12:00 – 1:00 pm
Register
Walking for Mental Health
Wednesday, May 25, 2022, 12:00 – 1:00 pm
Register
ON-DEMAND
UCI FITNESS
Wellness Ads Up – Free virtual library of on-demand educational and activity videos including strength, flexibility, stress management, and more.
UCI Campus Recreation Online – Free virtual on-demand exercises including F45, Pilates, Yoga, Stretch & Tone, and more.
UCI MOVES MORE
RESOURCES
Ant Trail Maps (pdf) – Explore the UCI and UCI Health campuses using the short and long routes that's right for you. Try walking with a friend or plan a walking meeting.
Meaningful Mile Maps – Explore a 1 mile walk on the UCI Campus with landmarks and campus history.
UCI Research Park Walking Map – Pick the route that's right for you, with walks along Research Park that vary from 0.3 to 1.3 miles.